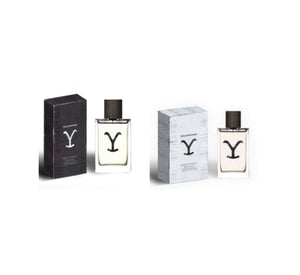 THE ULTIMATE HOLIDAY OR ANYDAY GIFT!!
Description:
Premium Set Includes 2 x 1 oz / 30 ml Spray Fragrances

Men's:
Rip inspired the Yellowstone cologne. It embraces the ethos of a man. Ideal for the noble outdoorsy type who knows his "job is to protect family", who cleans up well after "doing cowboy stuff all day", and never loses sight that his "tomorrows are all yours".
WITH NOTES OF:
Desert Verbena, Yellow Grapefruit, Vetiver Root
Golden Aspen, Atlas Cedarwood
Ladies:
Inspired by Beth Dutton, the Yellowstone eau de parfum is for the knowing woman who "has a plan for everything", is "nobody's baby", stays a little "dirty" and is clear that "you are the trailer park" and she is"the tornado"!
WITH NOTES OF:
Wild Huckleberry, Fresh Peach
Peony petal, Shooting star blooms, Cottonwood